General Notes
Every program should begin with a comment that includes your name and a brief description.


#Name: Thomas Hunter
#Date: August 27, 2018
#This program prints: Hello, World!

print("Hello, World!")

You are encouraged to submit your assignments early. Below lists the last date on which each assignment will be accepted. Assignments must be submitted before 9pm on the date due.
No credit will be given for an assignment submitted late.
Before submitting an assignment you are free to ask for help in recitation, during tutoring and office hours, and by e-mail (hunterCSci127help AT gmail.com). Please take advantage of this.
For more information on using gradescope, see the first lab.
While you are encouraged to work with others, all work submitted must be your own. As a rule of thumb, you must do your own typing. If it is not from the book or class webpage and you did not type it, it is plagiarism. For the first incident, your grade will be a 0 for the assignment (even for cases where you typed the program but others submitted it as their own). For the second incident of cheating or plagiarism, your grade will be a 0 for the homework component of the grade (30% of your overall grade). For the third incident, you will fail the class. We report all incidents to the Office of Student Affairs.
Learning programming is like learning a foreign language: you will learn more (with less work) if you practice every day. Some of the programs below are easy; some will take more time. Set aside a block of time every day to work on programming. If you complete the program for that day, go on to the next with your remaining time.
Here's
xkcd
on the simplicity of Python: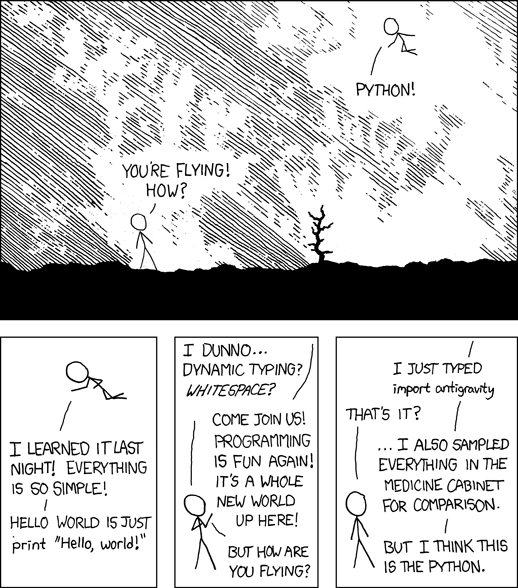 (This file was last modified on 29 November 2018.)