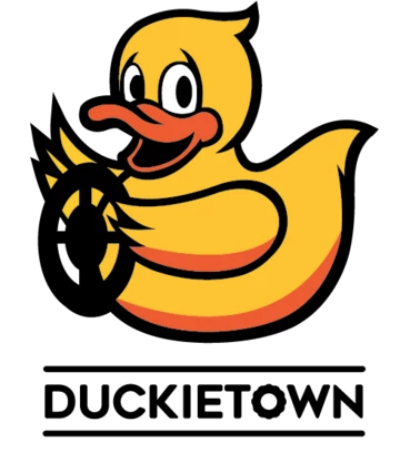 DuckieTown Workshop Hunter College
Monday, January 13 - Thursday, January 16, 2020
We are excited to announce a remarkable opportunity to explore computer science research. Professors Susan Epstein and Katherine St. John have just received a Google Award for Undergraduate Computer Science Research Focused Workshops for Women.
In the grand tradition of women doing innovative science at Hunter, 32 lucky undergraduates will spend 4 days in Hunter's very own Duckietown. What's that? One video is worth many words:
Duckiebots are tiny autonomous cars. (The ducks don't drive, but every car has an irresistible ride-along rubber duck). Duckiebots are expected to travel to specified destinations, stay in lane, obey traffic signals, and avoid collisions. This experience will make you laugh and think and code and get down on the floor for a duck's eye view of traffic lights and QR street signs and oncoming cars.
Autonomous driving is an easy-to-understand problem but it is far from solved. Both practitioners and future users of this advanced technology must learn about computer vision, navigation, planning, reasoning, social mores, and ethics. Duckietown will introduce you to those fields. You will also learn how to examine empirical results and how to report them.
Each day will begin with an introduction to fundamental concepts for the full group, and then set you and your team to work on a sequence of open-ended challenges. While your ideas and problem-solving skill will make things happen, you won't have to go it alone. In addition to your teammates there will be a host of enthusiastic undergraduate TAs and faculty circulating to help at all times.
FAQs:
Where and when? At Hunter College computer science department, January 13 - 16. You must commit to four full days of participation, from 9AM to 5PM. You probably won't want to leave but we need our sleep.
Who? Applicants must be declared majors in computer science, math, or another STEM field, and be proficient in Python and Unix. You should have a strong GPA, enjoy learning new and challenging material, excel at team work, and be able to share your knowledge with others. No previous experience with driving or robots is needed.
What does it cost? It's free. And there will be swag...
What do I need to bring? Your enthusiasm, creativity, and curiosity. We will provide the laptops, Duckiebots, and all necessary software.
What about food? Lunch will be on site. While you eat, we will discuss what research is, how it spreads, and why it is a team endeavor. Plus you will hear about artificial intelligence, machine learning, and the differences between the ways that people and robots sense and act in the world.
Why are we doing this? The faculty involved love their research, and want to give you a glimpse at how satisfying (and, face it, fun) a research career can be. And if you ultimately decide to go to graduate school or work in a research lab, so much the better.
How do I apply? Applications are closed for 2020 workshop.
Do I get course credit for this? No.
Do I get to choose my team? No.
What happens after the workshop? We will all be in touch. Watch for reunions to help you with course selection, and guidance on summer internships, research opportunities, and graduate school applications.
How can I learn more? Feel free to contact us: